Scilla Diving Center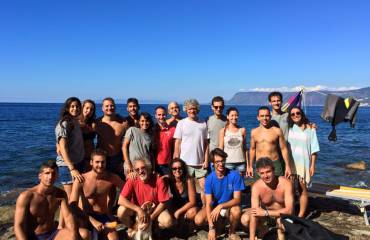 Founded in 1990 by Paolo Barone, the Scilla Diving Center is without doubt one of the most notorious and old in Italy, known for the amazing dive sites, his wonderful location and of course his professionality. The scuba center is located at the northern entrance of Chianalea (the most ancient and particular part of Scilla) on the seaside and can be easily reached by car.
The structure is made of an entrance corridor, one office/didactic room, one technical/storage room, one tank recharge station and a wide terrace on the seashore. The latter is the centre of the activity for it is the starting point for the dives, as much as it is a relax area when the diving activities are on pause.
The diving time is decided daily accordingly to the sea conditions and tides; dives start generally at 9.30 am and go on for the rest of the day, sometimes even until nightfall, so divers can choose their preferred time and the most suitable dive based on their skills.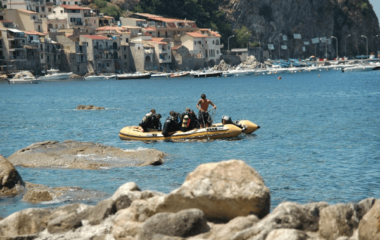 Educational activities such as diving lessons are made mostly in the afternoon; at the diving center it is possible to apply for international SSI certifications from Open Water Diver to Dive Guide, including all Speciality Certifications (like Stress&Rescue, Deep Diving, Boat Diving, Night & Limited Visibility, etc.).
We are sure that you will be satisfied from the skills and the professionality of our instructors and guides, who account a long-time experience and high-level certifications.
At the diving center you can store your equipment, wash it or rent anything you need to dive: we have at your disposal a vast choice of equipment suitable for any need and waist. Thanks to the short distance between the center and the diving sites, the transport is arranged on rubber boats on which you will embark directly from our structure to be underwater in few minutes.